Researchers assigned to the Marine Technology Service (SITMA) of the University of Las Palmas de Gran Canaria (ULPGC) have successfully completed a new mission with underwater gliders off the South coasts of the archipelago. In the course of 18 days, the marine area between Fuerteventura and Tenerife was monitored. As a new fact to be highlighted, this has been the first mission with two gliders working jointly in Macaronesia.
Rutgers University (New Jersey) and the Sub-department of the Environment (Government of the Canary Islands) have collaborated in a new operation by SITMA-ULPGC, which in this case was focused on studying the characteristic dynamics of eddies and wakes that generate leeward of the islands. Deployment and recovery operations have been coordinated by SITMA, counting on logistic support by the local company ELITTORAL. In this context, the eddies located between Gran Canaria and its adjacent islands were crossed in several occasions. Besides, part of the filaments of the Northwest African upwelling, that reach the eastern zone of the archipelago at this time of the year, were also followed.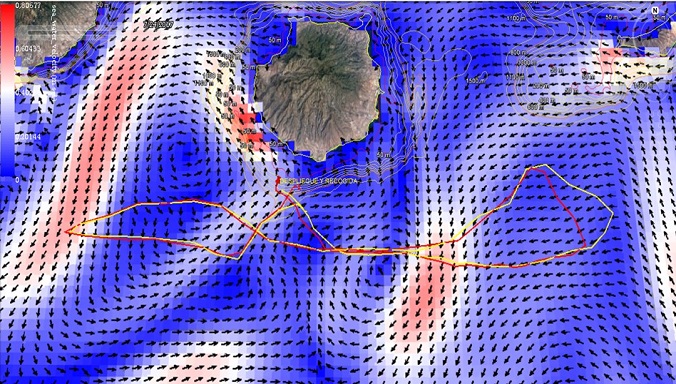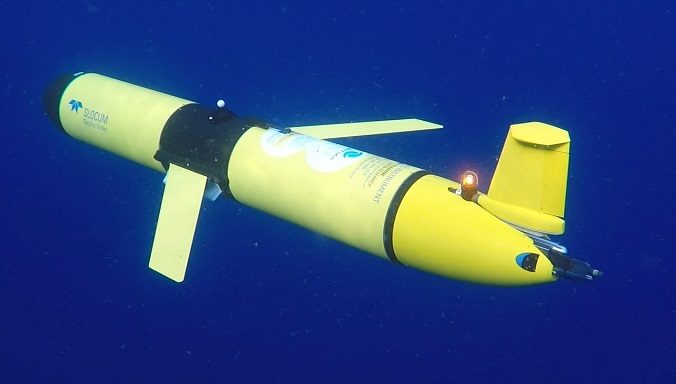 Current field from last 24th July (source: Copernicus IBI) and glider BIO submerging.
Between the 7th and 25th July the two gliders Slocum G2 of SITMA, equipped with physical (for "DYNA") and biogeochemical sensors (for "BIO"), were piloted. Both have moved at an average horizontal speed of 0.3 m/s, performing dives up to 800 m depth. Finally, the two vehicles were recovered on Monday 24th (DYNA) and Tuesday 25th (BIO) July South from Maspalomas, after completing a cruise of more than 400 km which has overall provided 800 hours of nonstop data recording.
This mission has also allowed researchers to carry out different tests with the whole range of sensors from SITMA that can be mounted onboard these type of underwater robots, as well as to add considerable "flight time" in view of the participation in the next oceanographic cruise of the project FLUXES, which is planned for November 2017.
Finally, the team took advantage to "overfly" again the Oleg sinking point, with the aim of gathering new information to confirm the normal condition of the water quality parameters in this area.
Information about project FLUXES: +info