The mission performed by "Dyna-585", one of SITMA´s autonomous minisubmarine robots (gliders), completes 35 days registering oceanographic data in the Canary Islands and will provide information on the possible effect of the tropical storm Theta, within the framework of the European project PLANCLIMAC of the MAC (Madeira - Azores - Canary Islands) Spain-Portugal V-A Interreg Cooperation Programme, 85% co-funded by the ERDF.
Last Tuesday 15th December 2020 the glider Dyna-585 mission, coordinated by SITMA and ULPGC´s ROC/SIANI division and OFYGA research group, was successfully concluded. This mission is framed within PLANCLIMAC project, coordinated by the Department for Ecological Transition, Fight against Climate Change and Territorial Planning of the Government of the Canary Islands.
Deployed during 35 days in the sea, Dyna has completed a route between the North of Gran Canaria (passing by the European Temporal Series Station of the Canary Islands, ESTOC) and the waters off the West side of Lanzarote and Fuerteventura. From the 10th November to the 15th December, the glider has navigated at an average horizontal speed of 0.2 m/s, performing dives up to 950 meters depth. The vehicle was finally recovered on the 15th December NE from Las Palmas de Gran Canaria, after completing a mission of more than 600 km which has overall provided more than 800 hours of nonstop data recording.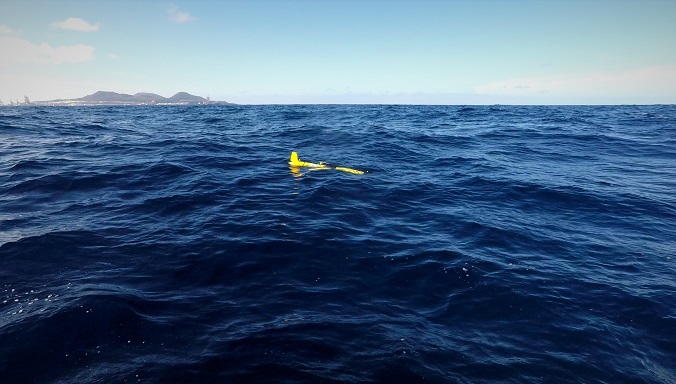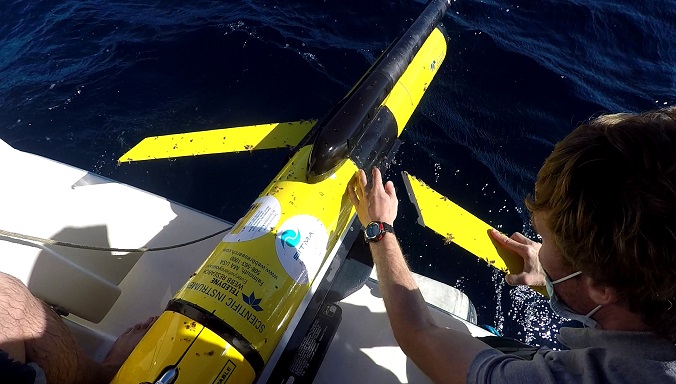 Moments during the deployment (10/11/2020) and recovery (15/12/2020) of Dyna.
The great volume of data registered through the sensors on-board the glider, with a MicroRider (for small-scale detection of temperature and turbulence patterns) and a DVL/ADCP Doppler correntimeter among them, will contribute to feed the existing data bases and cooperation in Macaronesia, as well as to provide perspective in climate change adaptation. The general objective of this project is to uptake scientific knowledge and technological capacity in the Macaronesian region, in order to provide tools assisting the implementation of adaptation policies and readiness facing natural risks related to climate change; therefore, ocean observation and monitoring play a major role in such a geographic context.
Besides other relevant events, this mission has allowed monitoring part of the evolution of the Theta and Clément storms.
Further information about PLANCLIMAC: +info