Last Wednesday 5th June, the same day that the inclusion of the Angelshark (Squatina squatina) in the National Catalogue of Threatened Species was published in the Spanish Official Journal (https://www.boe.es/boe/dias/2019/06/05/pdfs/BOE-A-2019-8317.pdf), this workshop was carried out in Arguineguín, as part of the activities programmed in the ACUSQUAT project.
The objective of this meeting was to discuss a series of recommendations to promote Use and Management Plans in beaches and bays considered as critical conservation areas for the species. A draft document prepared by the project team was shared and analysed during the workshop, after several rounds of debate about measures to be put into practice and/or improved, and a short general presentation on the whole project.
For the organization of the event, invitations were sent to more than 50 contacts among stakeholders related to the marine and coastal environments. Finally, a total of 13 participants representing 6 different collectives (Ministry of Agriculture, Fisheries and Food, Ministry for the Ecological Transition, Biodiversity Service of the Government of the Canary Islands, Civil Guard, several diving centres and the University of Las Palmas de Gran Canaria) contributed to this activity.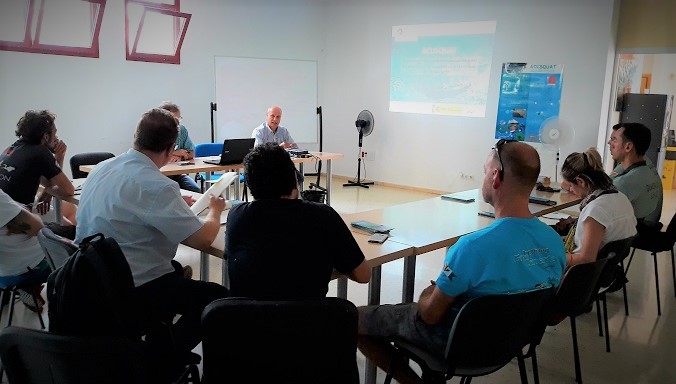 Conclusions approved in the workshop, together with inputs to the draft to be received in the next days, will be incorporated into the final version of the document. It aims to guide future initiatives regarding this kind of plans to ensure that the conservation of the Angelshark may be compatible with the different human activities developed in coastal areas.
Further information on the project: +info
Supported by: